About Spinder
Spinder Dairy Housing Concepts
Comfort your cows, enjoy the results
Spinder has been a reliable supplier of dairy housing solutions since 1973. Our company is established in the Netherlands, the country with a long history and promininent position in dairy farming.
Thanks to our knowledge of dairy farming, we are able to advise you properly and supply you with equipment that will serve you faultlessly reliably for many years.
Our dairy housing concepts are used by dairy farmers throughout Europe who rely on durable quality and smart solutions for a cow's daily activities.  
Spinder since 1973
Tjip Spinder started manufacturing and selling dividers and feed fronts in 1973, using the name Spinder Stalinrichting.
What started as a metal workshop, quickly became a small factory and eventually grew into Spinder as we know it today: a leading, advanced manufacturing company with a modern range for contemporary dairy farms. 
"An investment in a comfortable, safe and clean living environment for your cows will always pay for itself. In both animal wellbeing and production."
Brochure
More information? View our new brochure here!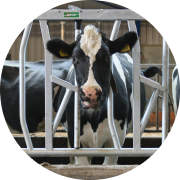 Complete range of products
43 years specialist
Leading position worldwide
Reliable
Innovative
High quality
Design focused on animal welfare and safety
Supplier in custom work
Products