Barrier gate
To close quickly crossovers during movement of groups of cows.
Barrier gate, basic
Suitable for closing smaller crossovers.
Standard hinge point and a locking point is included for mounting to a wall or on a support post 76 mm.
Barrier gate, spring loaded
To close quickly and simple large crossovers, for example feeding passages.
The barrier gate can rotate 360° around the included floor mounted support post (76 mm x 100 cm).
Included also a locking point which can be mounted to the wall or on a support post 76 mm.
In combination with several locking points is it easy to move the animals in different directions.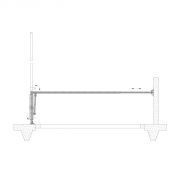 General applicable
Easy operating system
Cow traffic gates