Draw gate with contra weights
In a situation where there is not enough room for a pivoting barrier, this draw gate with contra weights will be an excellent solution.
It operates light and fast, thanks to the efficient locking mechanism and the contra weights located in the posts. This gate can be installed to the floor, walls or support posts with our standard fittings and clamps.
A minimum height of 280 cm is required.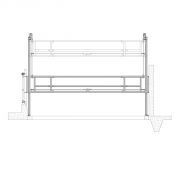 Easy operating system
Contra weights in posts
Cow traffic gates