One-way gate
Texas gate
A Texas gate can be used for easily closing the separation passage or the exit of the milking robot. A Texas gate consists of a set of Texas doors, mounted to a robust 60 mm gate. 
The Texas gate can be placed onto both a concrete floor and a slatted floor.
Self-closing gate
To be installed in the return lane of the parlour. Because of its inclined position the gate closes automatically.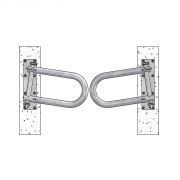 General applicable
Easy operating system
Cow traffic gates