Spinder stainless steel water trough
Because cows are herd animals, they like to drink collectively on a long water trough. A trough with a store of drinking water will give many cows clean water in a short time.
These long troughs are also very easy to clean. When removing the large plug all the dirt will drain out quickly with the rapid flow of the water.
The stainless steel construction of the troughs model 150 and model 200 guarantees durability.
Features
Model 150, capacity of approximately 100 litres and will provide 15 cows.
Model 200, capacity of approximately 130 litres and will provide 20 cows.
Suitable for floor mounting and wall mounting.
Contact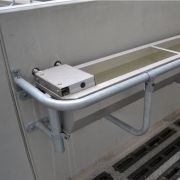 Stainless steel
Easy to clean
Easily removable plug
Drinking systems