Suevia valve trough drinker
Model 520, Stainless steel double valve trough drinker
One of the advantages of our stainless steel double valve trough drinker is its compact size. The trough is accessible from two opposite sides. This way two animals can drink undisturbed simultaneously. 
Another advantage is that the animals which are drinking are not blocking other animals passing by. This for the benefit of comfort and undisturbed cow-traffic in the barn. 
The substantial flow of approx. 30 litres per minute makes that the animals can drink all through quickly. One double valve trough drinker can supply 35-40 cows.
Model 500, Stainless steel valve trough drinker
Many features of this model are the same as those of the double valve trough drinker. Only this model can supply just one animal with fresh and clean water at the time.
This model can also be mounted to a feed front, walls, support posts or barn supports.
One stainless steel valve trough drinker can supply approximately 20 cows.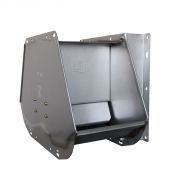 Stainless steel
Compact size
High water flow
Easy to clean
Heating element optional
Drinking systems