Diagonal feed front
Spinder has the diagonal feed front available for all age groups from calf till cow. A heavily built, easy, usable feed front.
A feed front with diagonal welded bars. The diagonal position of the bars hinders tossing up feed.
Features
Suitable for cows and young stock from 3-15 months.
Diagonal feed front cows: 2, 4, 6 or 7 feeding places.
Diagonal feed front young stock: 3, 5, 7 or 8 feeding places.
Contact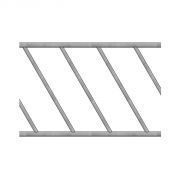 Robust construction
Easy to install
Head opening cows 29 cm
Head opening young stock 24 cm
Feed fronts