Safety feed front heifers and Jersey's
Newly developed in the range of safety feed fronts of Spinder dairy housing systems is the safety feed front for heifers and Jersey's.
The lowered version and fixed neck width of 18 cm makes this feed front very suitable for the treatment of heifers and dairy cows of smaller breeds e.g. Jersey's and Icelandic cows.
Furthermore the multi operating has many options and makes for example locking heifers for insemination simpler.
The safety feed front for heifers and Jersey's has a standard feeding place width of 65 cm. This supplies enough space for the often heavily built Holstein heifers.
For Jersey milking cows the 65 cm feeding place width is necessary according Danish requirements.
In  short: A feed front with much attention for safety of both cow and human!
Features
Multi operating of all feeding places.
Individual separation possible.
Contact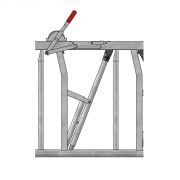 Developed for heifers and Jersey's
Lowered version
Fixed neck width of 18 cm
Head opening 38 cm
Feeding place width 65 cm
Feed front height 97 cm
Robust construction
Ear tag friendly
Easy operating system
Feed fronts