Self-locking feed front
The self-locking feed front with "insidefastener" has a hidden locking system totally integrated in the top rail.
Only the pushbutton of the locking system shows off from the top rail. The animals can easy be released throughout one easy motion of the hand. The feed front is designed and constructed in such away that animals can't free themselves.
Heavier made Model Limo
Heavier en heightened made model of the standard self-locking feed front for cows. As far as measurements in line with the very complete safety feed front from Spinder.
Features
Good catching performance on account of the smooth operation of the locking mechanism.
In the locked position stock can be released individually with one easy motion of the hand.
The locking mechanism cannot be deranged by moisture or dirt.
Contact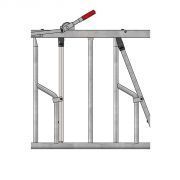 Quietly
Locking mechanism is totally integrated.
Ear tag friendly
Easy operating system
Feed fronts