Swedish self-locking feed front
A heavy feed front for massive cows. The movable bars have a neck collar protection and cows can be released individually. Easy and save to handle.
Features
Extremely solid made model with extra heavy tube bottom railing (60 x 60 x 4 mm).
Movable bar with neck collar protection.
Available in self-locking and not self-locking.
Contact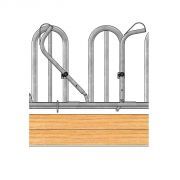 Robust construction
Suitable for horned cows
Movable bar with neck collar protection
Easy operating system
Low stepping through for farmer
Feed fronts