Model Comfort-NG to support post
The familiar Comfort model, conformed to modern standards. Dividers for cows.
With the waved neck bar the shoulder height or diagonal boxside – neck rail can be raised up till 30 cm.
Features
All the right dimensions are available.
Allows for all types of matting materials.
Available with extended galvanized mounting foot for deep litter cubicles.
Contact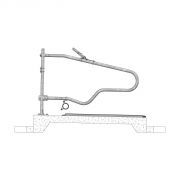 Durability, due to the suspended construction.
Easy to install
Freestall dividers