Model Comfort young stock
Heifers en Young stock are the future of a dairy herd, therefore they need to be well cared for.
Dairy farmers working with a freestall system for every age group get better results. Housing of the animals in dry, well-designed stalls with comfortable dividers, is essential for the development of these animals.
Model Comfort young stock, dividers for young stock.
Features
When using cow mattress several measurements should be adjusted, according to the thickness of the mattress.
Freedom when resting due to the special design.
Meadow mattress or FriesKo water bed can be placed without any problem.
Contact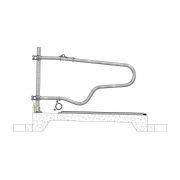 Durability, due to the suspended construction.
"Spacious" freestall divider
Freestall dividers