Model Frisia Perfekt to support post
In this version of the 'Frisia-Perfekt' divider system every divider is mounted to a sturdy 76 mm support post. This presents a structure without any barriers (horizontal tubing) in the front of the stall. Therefore the cows have all the room they need, to lie down or to get up in their natural way.
Features
The installation of the knee rail (PE125) is essential to guide the animal into the right position in the stall.
Shoulder rail height of 135 cm, providing for room to rest comfortably and to stand in a relaxed way.
Meadow mattress or FriesKo water bed can be placed without any problem.
Contact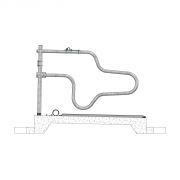 Stall is easy to clean
Adjustable in height
Stall is easy to clean
Freestall dividers