FriesKo waterbed
The ultimate comfort is provided by the FriesKo waterbed. A water layer between the animal and the floor allows no contact points between the animal's body and the floor. Improving herd health by preventing joint injuries.
The waterbed is standard made with a length of 190 cm. The water compartment and the surrounding strong rubber area is made out of one piece. The entire waterbed is reinforced with two layers of synthetic fabric. A special designed clamp seals the fill opening.
Features
Warm in winter and cool in summer.
Flexibility prevents dirt from sticking.
Available in several widths.
Contact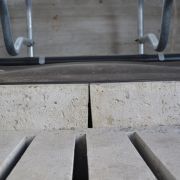 A design based on animal welfare.
Flexible and resilient
No seams, therefore hygienic.
Does not absorb moisture.
Easy to clean.
Guaranteed for 10 years.
Freestall matting