Meadow mattress
The Meadow mattress is soft and extremely resilient. For this reason the cows will lie down comfortably for a long period of time, and the surface of the mattress will keep its even shape.
The main part of the day cows are lying down to ruminate. While in the barn, dairy cows prefer a stall with a soft bedding. This results in longer hours of resting and therefore the cows will be in a good condition to produce more milk.
Features
The Meadow mattress is composed out of a high quality latex foam, surrounded with PVC wrap and a rubber top mat.
The rear of the stall endures the most wear by way of cow traffic. The top mat is fastened at the rear with a solid rubber strip of 20 mm thick and 60 mm wide.
The mattress slopes down due to the solid rubber strip at the rear, so moisture will drain and the mattress is easy to clean.
Contact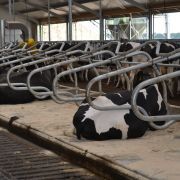 Soft en resilient
Durable top mat on a roll.
Does not absorb moisture.
Secure grip and skid-proof.
Easy to mount
Longevity
Freestall matting