Removable partition barrier
Removable partition barrier between two freestall dividers
Ideal for adaptable grouping. Easy to move. Can be used in alleys from 210 cm till 400 cm wide.
Removable partition barrier between feed front and freestall divider
The base element for this partition barrier is the  partition barrier for cows model 03.15. 
By making this barrier pivoting (pivoting point on the feed front) regrouping of the animals can be easily done. 
We advise to use our universal locking point on the freestall divider. For more convenience a gateway can be installed.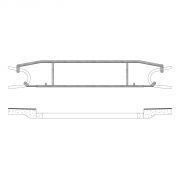 General applicable
Easy to move
Easy operating system
Partition barriers